In the fourth issue of the GIST newsletter, read about the launch of the GIST course, the testing of the course, and the multiplier events held in 6 countries of the Consortium.
The main objective of the GIST project is to develop and implement an innovative training material for SMEs, which will provide them the basic competences to reach a "bionic status."
The on-line training courses to become a facilitator of bionic transformation launched
We are proud to present our online e-learning courses, designed to enable people to become facilitators of bionic transformation. These courses are primarily aimed at small and medium-sized enterprises (SMEs) in the furniture and related industries, as well as national and regional support institutions.
By merging human creativity, technology, transversal competences and leadership skills, our courses aim to help companies reach a "bionic state". This transformation can translate into improved operational productivity and greater innovation within their organisations.
To enroll in the learning course, please visit our website at https://www.gist-project.eu or access the registration form at www.losglobos.eu/form/gistTemp. We are pleased to inform you that the courses are free of charge and open to people interested in exploring the subject matter. Take advantage of this opportunity to enhance your knowledge and skills in bionic transformation. Register now and embark on a transformative learning journey with us!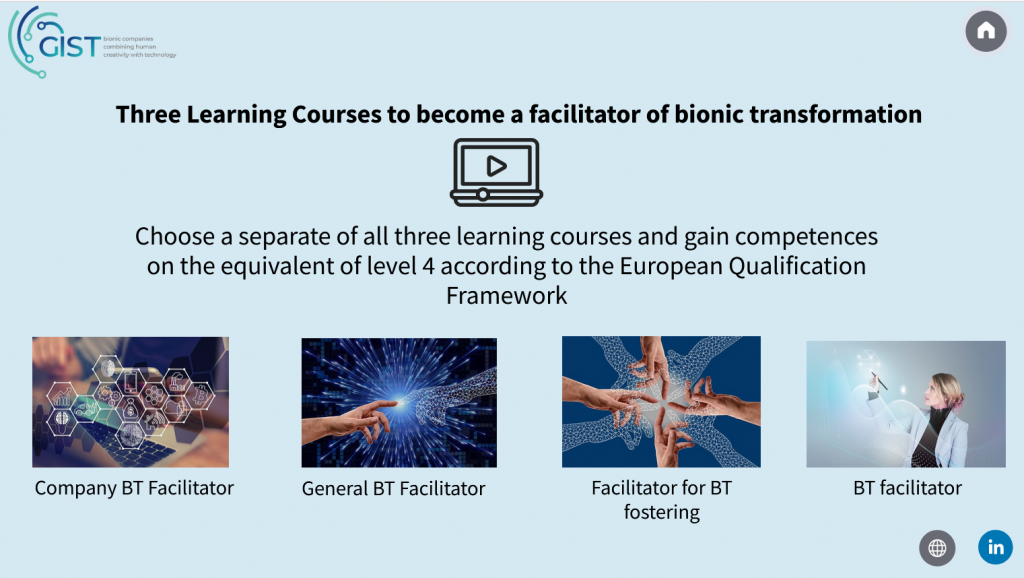 Learn more
Micro-learning pills
18 learning units of the course come in 3 minute micro learning video pills that  give you a glimpse of what you can expect to learn in our course.
Learn more
Pilot testing of the course
The pilot course of the GIST project has been completed by 36 learners from Germany, Poland, Croatia, Slovenia, Spain, and Ukraine. Over 80% of students and companies who tested the course noted that it will help them in their future work. Based on the feedback they have provided the team makes amendments to the course in terms of user-friendliness.
Multiplier events
The project organized multiplier events in each partner country with the following objectives: introducing the project and its context, presenting the GIST project and its e-Learning platform, showcasing the developed materials and didactic examples, and evaluating the event and its content, while actively seeking feedback from the participants.
In summary, a total of six multiplier events were conducted in different countries to promote the GIST project. These events aimed to raise awareness about the project and its online learning platform among diverse target groups. The participants included students and teaching staff from colleges and universities specializing in wood and furniture technologies, companies from various sectors, support organizations, as well as end users and intermediate users with a keen interest in bionic transformation.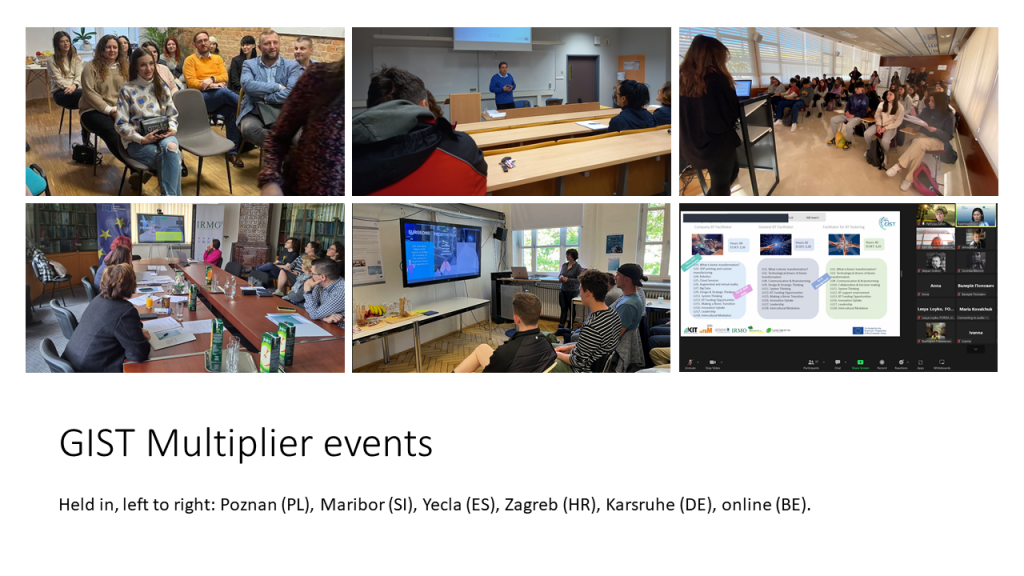 Multiplier Event in Spain:

o   Date: May 3, 2023
o   Location: Technological Centre of Furniture and Wood of the Region of Murcia (CETEM) in Yecla, Spain
o   20 participants

Multiplier Event in Germany:

o   Date: May 4, 2023
o   Location: Karlsruhe Institute of Technology in Karlsruhe, Germany

Multiplier Event in Croatia:

o   Date: May 18, 2023
o   Locations:

Institute for Development and International Relations (IRMO) in Zagreb, Croatia
PRAXIS – College for Knowledge in Karlovac, Croatia

o   31 participants

Multiplier event in Slovenia:

o   Date: May 16, 2023
o   Location: Styrian Technology Park, Slovenia
o   29 participants

Multiplier event in Poland:

o   Dates:

April 18, 2023
May 15, 2023

o   Location: Globalnet venue in Poznań, Poland

InnovaWood Multiplier Event:

o   Date: May 25, 2023
o   Location: Online
o   38 participants
Overall, these multiplier events successfully disseminated the GIST project, presented its outcomes and e-Learning platform, and received positive feedback from participants, indicating their effectiveness in promoting bionic transformation and digital skills acquisition.
Final project team meeting
The GIST partnership met in Brussels on May 24, 2023 for its final meeting. During this final meeting, we took the opportunity to review the outcomes and impact of the GIST project, and we also looked towards the future. We discussed the sustainability and legacy of the GIST project, ensuring that the impact and benefits extend beyond its official conclusion.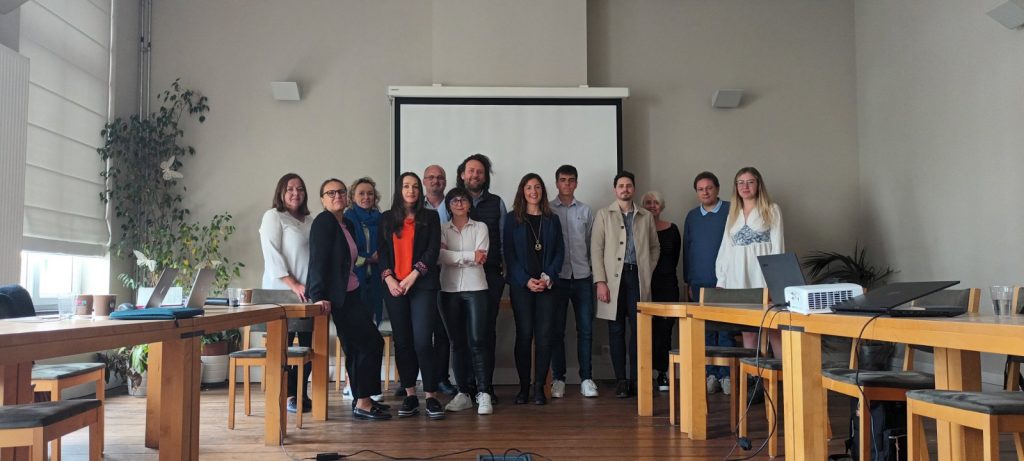 Learn more
What next
The GIST project aimed to help small and medium-sized enterprises overcome the challenges of the COVID-19 crisis by developing innovative training materials for digitalization and bionic transformation. Although the project ended in May 2023, its online learning platform remains available and accessible to everyone, at no cost.
The GIST partners firmly believe in the importance of ongoing learning and are committed to ensuring that everyone can benefit from the valuable resources we have created. Our platform serves as a central hub of knowledge, offering a diverse range of learning units, videos, and downloadable materials. Our focus is on addressing the unique needs of small and medium enterprises (SMEs), providing them with practical insights, strategies, and solutions to help them flourish in the digital era.
Thank you for being a part of Project GIST and for joining us on this transformative ride.
Check out our free RESOURCES!
GIST website gist-project.eu
GIST e-learning platform https://www.losglobos.eu/form/gist
GIST social media  linkedin.com/company/80308632/admin/