In this second issue of the newsletter get a glimpse of the new training  course Facilitator for Bionic Transformation and read what the GIST project partners were up to during the summer months of 2022.
Please register for this newsletter to be updated on the outcomes, results and events offered by GIST in 2022 – 2023.
Subscribe to GIST newsletter
The main objective of the GIST project is to develop and implement an innovative training material for SMEs, which will provide them the basic competences to reach a "bionic status".
What is the project team up to?
The development of the training curriculum of the Bionic Transformation Facilitator is taking shape!
During summer of 2022 the project team was very busy with co-developing the exciting training material for SMEs, which provides them the basic competences to reach a "bionic status". With this, IO1 already finished and IO2 under development will serve as inputs to the IO3 Collaborative platform for online training. In designing the training content the project focuses on real world examples, making sure they cover real needs and showcase best practices from existing companies on their digital transformation journey.  Check first overview of of Joint Curriculum here.
Full curriculum is soon to be revealed – come back to our website soon or follow us at our Linkedin to be in the loop.
As videos are now essential for today's generation of professional learners, there's a significant demand for video-based learning among organizations. Therefore GIST decided to expand the digital learning program with content-rich videos available for each of 14 learning units.
What is the GIST course about?
GIST training materials are focusing on companies in the furniture and related sectors.
Traditionally viewed as a sector that relies on handcrafted and manufacturing processes, in the last years the furniture industry has been embracing new technologies. Thus furniture companies have to keep up with the increasing technological transformation – a challenging task for organizations and requiring personnel with the skills they never had before.
There is a set of soft skills as well as technical skills required to lead a company through the digital transformation to the bionic company. Most furniture industry workers in the production chains are experienced craftsmen, with lots of experience but a shortage of skills.
For furniture companies, it is important to gain momentum and get adapted to the new concept of digitalization by upskilling and reskilling their staff to assure that no one is left behind in this working environment.
Take a look at the learning course "Facilitator of Bionic Transformation"  in the nutshell here.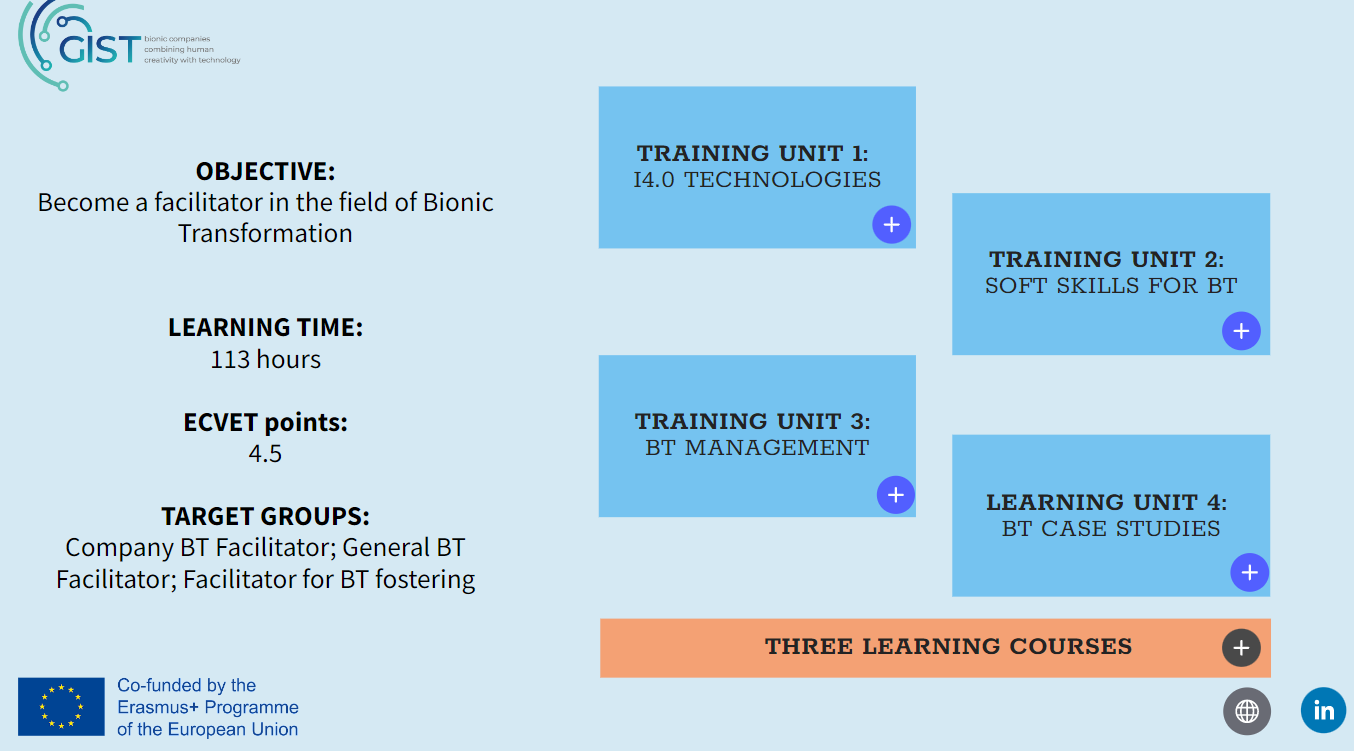 Learning, Teaching, Training activity
The GIST partnership met in Maribor for an enriching learning and training activity on 17-18 May 2022.
Three-days agenda organized by the Styrian Technology Park (Slovenia) was full of activities to discuss, but also included a Learning, Teaching and Training Workshop and several visits to key innovative cases in the region.
Read more
On the basis of the presented and live demonstrations of good practices, the project partnership is developing a high-quality online learning programmes that will contribute to raising the digital competences of existing and future staff in the field of digital transformation.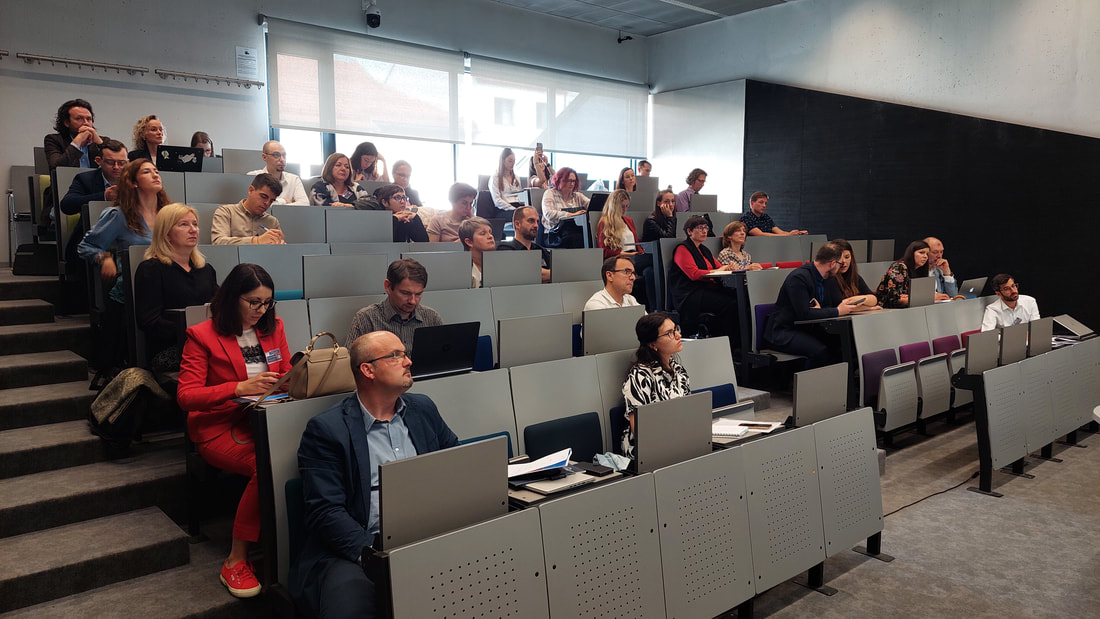 Next Transnational Project meeting will take place in September 2022 in Yecla, Spain.
Industry news
An interesting article talking about five boosters that can help every company to embrace its bionic future. They are:
1- Let the business lead
2- Focus on high-value initiatives
3- Educate the workforce
4- Adopt platform thinking
5- Leverage data and AI
Read full article
What is a bionic company?
Bionic is a company which is capable of combining technological aspects, human creativity, transversal and leadership skills to achieve more productive operations and greater innovation.
Bionic may sound very futuristic, however bionic companies can also be found in traditional industries (like furniture industry). These companies are complementing their successful business processes with far-reaching digital transformations to reposition their competitive capabilities for a bionic future.
Project members of the day
Now, when we have introduced you to the key objectives of the GIST project, we want to present to you all 6 project partners, from 6 different countries of Europe, and the teams who are working to meet these objectives.
Meet partners from Croatia and Slovenia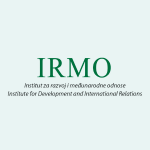 The Institute for Development and International Relations (IRMO) https://irmo.hr 
IRMO  conducts research mainly in the fields of social sciences, especially economics, culture, political science, sociology and other related disciplines.
This public research institute, which carries out theoretical and applied research, has the support of the Croatian Ministry of Science, Education and Sports and has participated in international research projects funded by the EC (FP6, FP7, CARDS, PHARE, TEMPUS, IPA) and other international organisations (WB, OECD, EBRD, NATO, UNDP, UNESCO).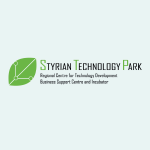 Styrian Technology Park (STP)  www.stp.si/about-us.html
STP has been founded in 1994 as the first technology park in Slovenia as a public and non-profit technology, business & research support organization,
based in Podravje region, 2nd largest region of Slovenia (North-Eastern part of Slovenia).
STP, being the Business Support Centre and Accelerator, is focused on provision of comprehensive support for SMEs. Currently, STP is supporting more than 200 SMEs in various sectors.
STP acting as the Regional Centre for Technology Development (RCTR), pursuing technology transfer, technological & innovative research and development sphere among / with
different target groups and topics. Within RCTR, a Technology Hub of North Slovenia has been set up recently. STP Techno LL priority fields of activity are Advanced Technologies, together with KETs, ICT, Creativity and SMEs Innosupport.
Get connected with us & check out our resources!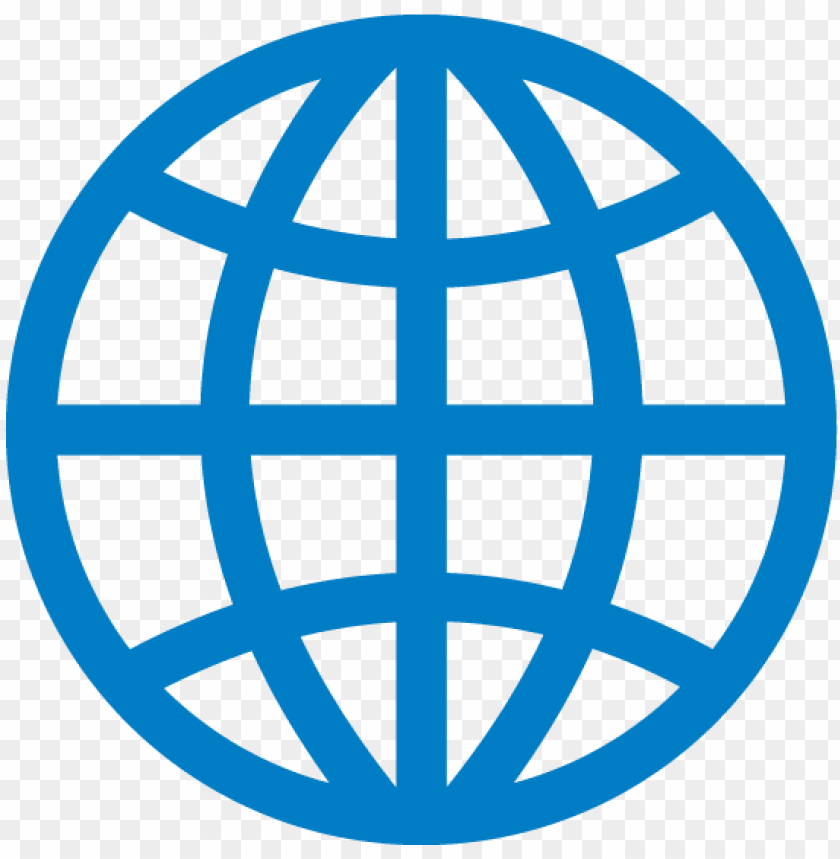 gist-project.eu
Register for this newsletter to be updated on the outcomes, results and events offered by GIST in 2022 – 2023.
Subscribe to GIST newsletter